Nokia confirms that the Nokia 3, 5, 6, and 8 will receive Pie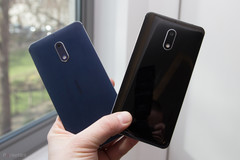 HMD has sent the Pie update out to the Nokia 6.1 and Nokia 7 Plus. The company has now reaffirmed its commitment to providing steady software updates by confirming that the last-gen Nokia 3, 5, 6, and 8 will also all receive the Android Pie update.
A number of OEMs have begun sending out the update to Android Pie and HMD isn't one to be left out. In fact, the Finnish company can be said to be well ahead of the pack, as it has sent out the Android Pie update to two devices, the Nokia 7 Plus and the Nokia 6.1. While that's already commendable, the company will build on that good form in the near future, with confirmation that it plans on sending out the Pie update to its last-gen devices.
HMD Global, using the Nokia trademark, launched the Nokia 6, Nokia 8, Nokia 5, and Nokia 3 in the first half of 2017. The devices ran on Android Nougat and received Oreo shortly after it was released. According to Juho Sarvikas, HMD Global's Chief Product Officer, the four devices are scheduled to receive Pie too. That would make it two major OS updates the devices receive, fulfilling the promise of the OEM, which is more than can be said for most companies in the business.
While a number of OEMs promise two major updates for their flagships—sometimes failing to actually deliver—it's almost unseen to see a company send two OS updates to its budget devices. The Nokia brand has been built on a platform of great customer service and support, so it's a nice touch to see that tradition being continued.