CES 2018 | G.Skill's new Sniper X DDR4 memory comes with a touch of camouflage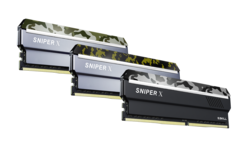 G.Skill has announced the availability of Sniper X DDR4 3600 RAM in a camouflage design that complements gaming PCs. G.Skill offers capacities up to 128 GB and the modules come with support for XMP 2.0.
G.Skill is introducing a new Sniper X series DDR4 RAM, which can reach speeds of up to DDR4-3600 MHz. The unique aspect of the new Sniper X series is that it comes in three different camouflage variants that complements any gaming PC setup.
The Sniper X series comes in three distinct patters — Classic Camo, Urban Camo, and Digital Camo. G.Skill says that the Classic Camo pattern is inspired by the jungle green camouflage design while the Urban Camo pattern is designed to blend into a concrete jungle setting. The design of the Digital Camo also features yellow highlights for a warfare look.
Looks aside, the Sniper X is meant for what it is — a performance oriented RAM kit. The modules are available in speeds ranging from DDR4-2400 MHz to DDR4-3600 MHz and capacities up to 128 GB (8 x 16 GB) are offered. This makes the Sniper X a very good option to consider for gaming and content creation. The new Sniper X also comes with support for Intel XMP 2.0 that allows for easy memory overclocking.
The new Sniper X DDR4 RAM modules will be available at authorized G.Skill partners in Q1 2018.