Computex 2018 | Overclocked G.Skill Trident Z RGB memory claims the first and second place for world's fastest RAM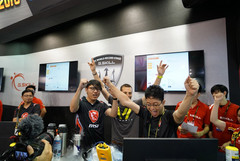 G.Skill's overclocking event during Computex 2018 saw 13 overclocking records set, among them were the fastest RAM frequencies ever recorded.
Computer RAM might not be as sexy or as exciting as processors and graphics cards, but the Taiwanese-based G.Skill was showing PC memory some love at Computex 2018. They ran an overclocking event during the trade show and proudly announced this week that their Trident Z RGB sticks set a new world record for the fastest memory frequency in the world.
The record was set by Toppc, a professional extreme overclocker from team MSI, using 2 x 8 GB Trident Z RGB with Samsung memory modules. The maximum speed achieved was DDR4-5543 MHz using an MSI Z370I Gaming Pro Carbon AC motherboard and an Intel i7-8700K.
On the same day another professional overclocker, Kovan Yang, managed to hit DDR4-5541.4 MHz. Naturally, this fractionally lower speed was still good enough to set the record as the second fastest RAM speed in the world. Yang was using an MSI X299 Gaming Pro Carbon AC motherboard and an extreme edition Intel i7-7740X. This was also the first time that the two fastest records were set on different chipset platforms.
There were 13 other records set during G.Skill's annual overclocking event, in areas such as CPU frequency (7409 MHz on an i7-8700K), and in benchmarks. As always, these extreme speeds were achieved using extreme methods such as liquid nitrogen.
Working For Notebookcheck
Are you a techie who knows how to write? Then join our Team! Especially English native speakers welcome!
Currently wanted:
News and Editorial Editor - Details here