Fortnite helps Epic raise US$1.25 billion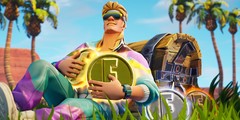 A press release from Epic Games has announced that the company has managed to raise US$1.25 billion from a group of investors. Undoubtedly, the massive global impact of Fortnite will have contributed to the success Epic has had in securing such a large investment amount. A separate report has valued the creators of the Unreal Engine at nearly US$15 billion.
Epic has issued a press release confirming that it has received US$1.25 billion in an investment round from a number of investors. Although it's not yet been mentioned what the money will be specifically used for, it is likely that Fortnite's development team will receive an impressive chunk of it. Epic's CEO, Tim Sweeney, had this comment to make:
This reinforces Epic's position of leadership in real-time 3D technology, and accelerates our ability to improve the way people play, work, and interact with the world.
The new partners of the games studio are KKR, ICONIQ Capital, Smash Ventures, aXiomatic, Vulcan Capital, Kleiner Perkins, and Lightspeed Venture Partners. The firm aXiomatic is also involved with Team Liquid, a well-known esports organization that won The International 2017 Dota 2 championship, which had a purse of nearly US$25 million. Vulcan Capital is an arm of Vulcan Inc., which was founded by the late Paul Allen of Microsoft fame.
Another seemingly organic strategic partner for Epic is Kleiner Perkins, a company that has ventures in firms like Google, Amazon, Electronic Arts, Compaq, and even Twitter. Lightspeed Venture Partners is also heavily involved in the technology industry, and KKR has an enviable global reach with offices in locations such as New York, London, Mumbai, Shanghai, Seoul, and Tokyo.
An article from the Wall Street Journal has mentioned that Epic Games has been valued at nearly US$15 billion, not bad going for a company that has its foundations in Sweeney's parents' house. It seems Fortnite's big numbers keep attracting even bigger numbers.