Every AMD Ryzen 7 4800H laptop we've tested thus far have been outperforming the Intel Core i7-10875H and Core i9-10980HK, but there's a catch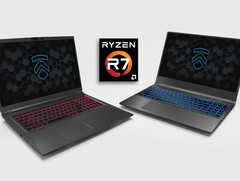 In the world of laptops, it's inaccurate to say that one processor is faster than a competing alternative without a large enough sample size as we've demonstrated many times before. However, we can certainly notice trends along the way and the current trend for the Intel Comet Lake-H series versus the AMD Renoir-H series is leaning more and more towards AMD's favor.
We've reviewed 7 laptops with octa-core Comet Lake-H or Ryzen 7 Renoir-H processors thus far and the systems running on AMD hardware have been consistently edging out their Intel counterparts in multi-threaded workloads. The Blender rendering benchmark, for example, finishes almost 40 seconds faster on the AMD-powered Eluktronics RP-15 when compared to the fastest Core i7-10875H laptop currently in our database. CineBench multi-thread results are also about 15 percent higher on average with the Ryzen 7 4800H.
The key area where Intel still holds the advantage is in single-threaded or single-core operations. The 7-Zip compression/decompression benchmark, for example, runs 15 percent faster on Intel hardware when set to a single core while the opposite is true when all cores are enabled.
The main challenge for Intel is that more applications and games are beginning to better exploit multi-core setups meaning any advantages in single-thread operations will become less relevant to most gamers and content creators over time. If you're in the market for a high-performance octa-core laptop, it's going to be difficult to recommend an Intel Comet Lake-H platform especially when you start to factor in the price parity between it and the Ryzen 7 4800H.
After graduating with a B.S. in environmental hydrodynamics from the University of California, I studied reactor physics to become licensed by the U.S. NRC to operate nuclear reactors. There's a striking level of appreciation you gain for everyday consumer electronics after working with modern nuclear reactivity systems astonishingly powered by computers from the 80s. When I'm not managing day-to-day activities and US review articles on Notebookcheck, you can catch me following the eSports scene and the latest gaming news.