Eurocom Nightsky RX15 gaming laptop now shipping with 60 Hz OLED and 240 Hz IPS options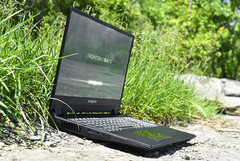 It's a tough call between OLED and IPS if you're a gamer. While the former allows for deep and accurate colors, the latter offers faster refresh rates for smoother and more responsive movement. Eurocom will let you choose between OLED or IPS with only a relatively small price difference between them.
As a reseller of enthusiast gaming laptops and professional workstations, Eurocom is quick to jump on the latest technology trends. It's newest 15.6-inch gaming laptop, the Nightsky RX15, will be one of the few in its category that can be configured with OLED and 240 Hz IPS panel options.
The 240 Hz IPS panel is as detailed below. Note that this is the same Sharp IGZO panel as found on the Razer Blade 15 and so the Nightsky RX15 will offer a similar visual experience. Unlike the Razer, however, the Eurocom system can be configured with up to an unlocked Core i9-9980HK for faster processor performance.
The Nightsky RX15 is now shipping for $2200 with a 4K UHD OLED panel or $2050 with the aforementioned 240 Hz IPS panel.
| | |
| --- | --- |
| SHARP 15.6" IGZO TFT-LCD | Model:LQ156M1JW03 |
| Frame Frequency (Hz) | 240 Hz |
| Signal Interface | eDP (2 Lanes), 40-pin |
| Resolution | 1920x1080 (FHD) |
| Display Colours | 16.7M, 72% NTSC |
| Contrast Ratio: | 1000:1 |
| Brightness (cd/m2) | 300 cd/m2 |
| Aspect Ratio | 16:9 |
| Viewing Angles | 89/89/89/89 (CR≥10) |
| Response Time (ms) | 8 ms |
| Input Voltage (V) | 3.3V |
| Panel Weight (g) | 310g |