The Nokia 7.2 (aka Daredevil) allegedly swoops onto Geekbench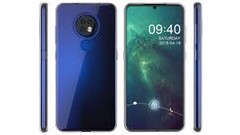 A new Geekbench database entry apparently corresponds to one of Nokia's reported upcoming round-camera phones, the 7.2. It refers to a device with 6GB of RAM and running an unnamed SoC at 1.84GHz. Its scores are not far off those of the pre-existing Nokia 7 Plus.
A new set of Geekbench scores posted today (August 9, 2019) are attributed to the "HMD Global Nokia 7.2". They suggest that this phone, which also reportedly goes by the codename daredevil, has 6GB of RAM and runs Android 9.0. It is listed as powered by a processor running at 1.84GHz.
The name of this SoC can't be guessed at easily, as the 'motherboard' field for these benchmarking results is taken up by the aforementioned code-word (which, frankly, impacts on its validity) rather than a Qualcomm model number as is more usual.
However, it is also identified as an 8-core chipset of the "ARM implementer 81 architecture 8 variant 10 part 2048 revision 2" variety. These characteristics have been associated with the Snapdragon 660 processor in the past.
Those hoping for a higher tier in their prospective Nokia 7.2 purchase may be disappointed: the 660 is also found in the preceding 7 Plus, after all. However, it is also rumored that the device with a Marvel TV-inspired code name will also have variants that run the Snapdragon 710 processor. Add the Nokia 7.2's old-school circular camera module, and its launch may turn out to be very interesting after all.