Pie for all: Nokia 1 gets update to Android 9.0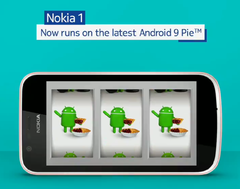 HMD Global has delivered on its pledge to upgrade its entire range of Android phones to the current latest stable software version. This also now encompasses the Nokia 1, its "most affordable smartphone". Its new Pie-based ROM also comes with a June 2019 security patch.
The Nokia 1 was released in 2018 at a price of about US$100. Despite its slightly paltry 1GB of RAM and 8GB of internal storage, it has been linked to a crucial advantage: its parent company, HMD Global, had promised it a major Android upgrade. Now, owners of this phone have observed that this is finally being acted on.
Based on the Android 9.0 (or Pie) experience on other Nokia devices, these users can expect a version of the OS that is most similar to what Google intended while developing it. This update also confers a June 2019 security patch on the device.
Android Pie for the Nokia 1 has also been made official by Juho Sarvikas, HMD Global's chief product officer, on Twitter. The executive declared that there was now "a Nokia smartphone for everyone running Pie - bringing to you the latest experiences from Google" (although the latest Q beta may have something to say about the latter half of that quote).
Therefore, Nokia 1 users can keep an eye out for their update notification, unless it has shown up already, of course.