Nokia's "Daredevil" leaks connected to the 7.2 name for the first time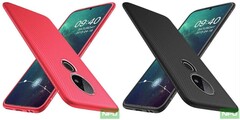 A phone that looks much the same as those in leaks and renders connected to a smartphone codenamed "daredevil" has popped up again in a tweet posted by a Zeiss employee. This individual calls it the Nokia 7,2, indicating that it is truly the rumored 48MP device. This phone is also now thought to launch in September during a scheduled HMD Global event.
The last few months have seen a slew of leaks and renders in which new phones with a circular rear camera module is linked to the OEM Nokia. They are allegedly the 6.2 and 7.2 or "star-lord" and "daredevil"), which are said to have a 48MP camera as one of 3 in a relatively novel circular module on their rear panels.
This feature is also always shown above an equally round fingerprint sensor, suggesting that they are mid-range devices at best. Then again, their high-resolution cameras could be enhanced by Nokia's long-standing assoication with Zeiss, the makers of high-end lenses for photo equipment. A new leak, which may have been hurriedly quashed thereafter by the same company, shows a phone that could be Daredevil.
It is also described as the "Nokia 7.2" by the employee responsible for the tweet in question - inadvertently, it seems, as the same post was removed without delay. However, NokiaPowerUser successfully rescued it from obscurity beforehand. Its image matches prior 6.2/7.2 leaks exactly, and also adds the detail of Zeiss branding, placed in the middle of the circular rear camera.
The Nokia 7.2, along with its rumored Marvel-themed sibling, is now likely to miss an August launch that had been projected for both phones. Instead, they may now be released at or around iFA 2019, which will take place on September 6 to 9, 2019.