New Nokia phone with codename "Captain America" leaks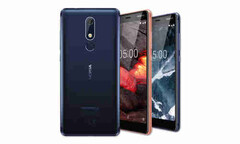 A new Nokia device has been spotted in the wild. The phone, marvelously codenamed "Captain America" is said to be the upcoming Nokia 5.2, and is billed for a February 23 launch at MWC.
While the novelty of HMD Global Nokia-branded phones appears to have waned, the company seems to have adopted an interesting superhero-based codenaming scheme. The Nokia 7.2 and Nokia 6.2 were codenamed "Daredevil" and "Starlord" respectively, and a new Nokia phone has leaked with the codename "Captain America".
"Captain America" is expected to be the Nokia 5.2, a low mid-range phone in HMD's lineup for the year. Going by word on the grapevine, the Nokia 5.2 will sport 6 GB of RAM and 64 GB of RAM, and is billed to go on sale on March 4 with an MSRP of US$180.
Leaked images of the phone depict it with a quad rear camera setup, in a circular module. At the back of the phone is a traditional capacitive fingerprint reader. The front of the phone plays host to a selfie camera housed within a waterdrop notch, with a wide earpiece grille potentially alluding to a stereo speaker setup.
The Nokia 5.2—Captain America, if you will—is expected to be launched on February 23 in Barcelona. Reports also claim it could be launched alongside the Nokia 8.2 5G and Nokia 1.3.