Rumour | The Nokia 9.2 PureView rises from the ashes of the Nokia 9.1 PureView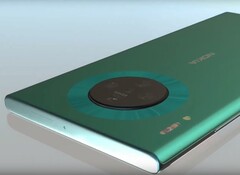 The Nokia 9.1 is dead, long live the Nokia 9.2. That is the latest rumour about Nokia's next flagship, which may come as no surprise. More excitingly, Nokia has ditched the Light camera technology from the Nokia 9 PureView in favour of a conventional camera setup. The Nokia 9.2 PureView will apparently arrive in 1H 2020, too.
The Nokia 9 PureView was something of a mixed bag. The device offered a lot, with Nokia promising that its ambitious five rear-facing cameras could "collect up to 10 times more light than a single smartphone camera colour sensor". The Nokia 9 PureView stumbled in its execution though, with its Light and Zeiss co-engineered camera technology unable to live up to the hype.
Fast forward a year and Nokia has apparently canned its partnership with Light and the 9.1 PureView. The news comes courtesy of NPU, which claims to have received a tip that Nokia is focussing on the 9.2 PureView instead. While unverified for the time being, this would not come as much of a surprise considering that Nokia originally planned to launch the 9.1 PureView with a Snapdragon 855 in Q2 2020.
Accordingly, the 9.2 PureView will apparently sport a Snapdragon 865, along with a large main rear-facing camera sensor. NPU states that its source has informed them of a 1H 2020 release for the 9.2 PureView, too.
Until we see more about the so-called 9.2 PureView, we would file this one under unlikely. On a side note, the issues that we had with the camera capabilities of the Nokia 9 PureView were not because of its sensors. On the contrary, the device can shoot great images in RAW with its JPG processing largely being at fault for our lacklustre test photos. Switching camera sensors will not necessarily fix this either, so hopefully Nokia is improving this alongside releasing its next suite of smartphones.