G.SKILL announces new Trident Z Royal DDR4 RAM kits clocked at up to 4300 MHz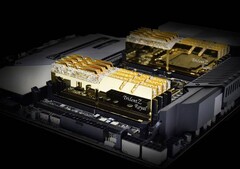 G.SKILL today announced new high-performance memory kits available in 32 GB (4 x 8 GB) and 64 GB (8 x 8 GB) configurations. There are two kits: one is clocked at 4300 Mhz, while the other is clocked at 4000 MHz. Both variants offer relatively low CAS latency, considering their sizes and speeds. The kits will be available in the 4th quarter of this year.
G.SKILL is known for making some high-quality gaming peripherals and high-performance RAM, and the company aims to push the gaming world even further with its new 64 GB memory kits. The updated kits, released under the Trident Z Royal series, offer speeds up to 4300 Mhz.
G.SKILL will offer two variants of the new DDR4 RAM kits, one clocked at 4300 MHz
(CL 19-19-19-39) and one set at 4000 MHz (CL 16-18-18-38). Both speeds are available in 32 GB (4 x 8 GB) and 64 GB (8 x 8 GB) sizes.
G.SKILL is marketing the new RAM kits at workstation users and claims the memory read bandwidth (as measures in AIDA64) can exceed 101 GB/s in a quad-channel configuration.
The new RAM kits will include the Trident Z brand's RGB lighting and will support Intel's XMP 2.0 for "easy overclocking setup," according to G.SKILL.
The new G.SKILL Trident Z Royal high-performance kits will be available worldwide starting in Q4 of 2019.