Entry-level Microsoft Surface Book 2 now comes with 8th Gen Intel Core i5 option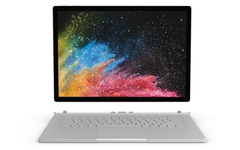 The base model of the Microsoft Surface Book 2 has just received an additional choice among its configuration options. Microsoft has given potential purchasers the opportunity to have the device fitted with a quad-core 8th Gen Intel Core i5 processor. Previously, shoppers had to make do with the dual-core i5-7300U CPU.
The configurator for Microsoft's Surface Book 2 has a new option in the form of an Intel Core i5 (8th Gen) processor. The 13.5-inch version of the 2-in-1 convertible previously had two options for shoppers to choose from: the dual-core i5-7300U or the quad-core i7-8650U. Unsurprisingly, there is quite a leap in price difference between the two. The i5 (8 GB RAM, 256 GB SSD) variant sells for US$1,299 and the i7 (8 GB RAM, 256 GB SSD) model goes for US$1,999.
For those looking for a compromise somewhere between the entry-level i5-7300U and the powerful i7-8650U, Microsoft has delivered with the i5-8350U from the Kaby Lake Refresh family (like the already offered i7 chip). This new processor option has twice the cores of the i5-7300U, which naturally affects the performance of the Microsoft Surface Book 2. If you glance at our comparison, although the two chips compete closely in single-core benchmarks, the quad-core i5-8350U streaks away from its Kaby Lake counterpart in multi-core tests (by 50% in Cinebench R10 Rendering Multiple CPUs 64-bit).
The good thing about this new processor choice is the price difference is less drastic. The Microsoft Surface Book 2 with i5-8350U, 8 GB RAM, and 256 GB SSD costs US$1,499 at the company's online store. If you plan to use the device with workloads that can take full advantage of the extra cores of the latest processor addition (running multiple programs, video and photo-editing, etc.), then it might be worth spending an extra US$200 for the CPU upgrade.