Microsoft to offer new i5-powered Surface Pro 6 and Surface Book 2 models with more RAM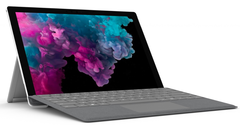 A large electronics retailer has apparently accidentally revealed two new SKUs for Microsoft's popular Surface range. The models involved are variants of the Surface Pro 6 and Surface Book 2. It appears the Redmond-based tech giant has decided to allow consumers the opportunity to combine i5 processors with a larger amount of RAM.
Two new versions of Microsoft Surface products have been spotted on the Canadian website for Best Buy. Although the pages have now been removed, there are other websites that have at least one of the SKUs listed. The devices in question are the Microsoft Surface Pro 6 and the Microsoft Surface Book 2.
At the present, Microsoft's configurator allows a shopper to purchase a Surface Pro 6 either with an i5-8250U processor and 8 GB RAM or if 16 GB RAM is required then an i7 CPU has to be selected. The i5 with 8 GB RAM SKU costs US$1,199 whereas the i7 model with 16 GB RAM costs US$1,899. The latter variant also comes with a larger storage solution: 512 GB vs. 256 GB.
There's a similar picture with the Surface Book 2. The 13.5-inch model with i5-7300U CPU, 8 GB RAM, and 256 GB storage costs US$1,199. If a user requires 16 GB RAM then they have to select an i7 chip and a 512 GB drive, which puts the price up to US$2,499 (although this also includes a discrete GPU from Nvidia). The point is, an i5 option with 16 GB RAM seems like it would be a useful midrange choice for customers interested in either laptop.
WinFuture has provided expected prices for these two new potential SKUs. The Microsoft Surface Pro with i5 processor and 16 GB RAM could cost US$1,399 and the similarly specced Microsoft Surface Book 2 would cost US$1,999. The new Surface Book model could be released on June 18, with the Surface Pro variant possibly being made available at the same time.