Call of Duty: Black Ops 4 gets the most important update so far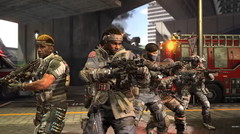 The latest update to Call of Duty: Black Ops 4 is a massive one and comes with a rather long list of changes, which includes Nuketown, Daily Tier Skip, Blackout with Nuketown Island zombies and the Bowie Knife, stability tweaks, and much more. The update is already rolling out to PlayStation 4 consoles, and the other platforms should get it next week.
Yesterday was a lucky 13 for Call of Duty: Black Ops 4 players, who can now enjoy an impressive amount of new features that arrived with the latest update for this title.
According to the Reddit post by Treyarch about it, the November 13 game update "is absolutely huge" and brings the following highlights:
Nuketown on PlayStation 4 (free for all players, coming to the other platforms next week)
the biggest stability update yet in Zombies
gameplay balance tweaks in all moves
Multiplayer map spawn and game mode enhancements
new Character Missions and the Bowie Knife in Blackout
Daily Tier Skips
Blackjack's Shop added to Black Market
Most of the changes above have been added to the PlayStation 4 version of the game, but those playing Call of Duty: Black Ops 4 on Windows PCs and Xbox consoles should not worry, because they should get the new stuff next week as well.
As you probably figured out already, the update is also very large in size, so — especially if your connection is not very fast — you might want to start the update process and get out for a long walk or just go to sleep. If you already updated your Call of Duty: Black Ops 4 already, feel free to share your thoughts about it in the comments section below.