Sea of Thieves gets "Forsaken Shores" free update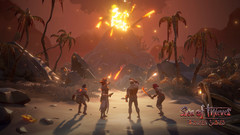 The new free content update for Sea of Thieves, dubbed "Forsaken Shores," comes with a new volcanic region. Suggestively called "The Devil's Roar," the new area allows players to encounter volcano eruptions, terrifying earthquakes, unpredictable geysers that can fling them into the air, as well as dangerous super-heated water that surrounds the islands.
After being previewed at Gamescom 2018 — the world's largest gaming convention — Microsoft's "Forsaken Shores" update for Sea of Thieves is now available for all players. The update is the biggest yet and comes at no charge for those who own the game or access it through Xbox Game Pass.
The centerpiece of the update is a new volcanic region that carries a well-chosen name: The Devil's Roar. Described as a "perilous and challenging area," The Devil's Roar includes all the ingredients needed for an intense gaming experience: volcanoes raining down hot rocks and flowing lava, earthquakes, geysers that can send you into the air without warning, super-heated water that surrounds the islands.
The new content is introduced with a time-limited campaign that started yesterday and will be running for four weeks. The campaign will let players find out what happened to the first crew that made it to The Devil's Roar and comes with new quests with the Merchant Alliance.
As usual, those who miss the time-limited campaign will be able to enjoy the new features added by the update in the future. At last, we should also mention that Sea of Thieves will get support for Traditional Chinese on November 8.
Are you a Sea of Thieves pirate already? Tell us what you think about the game in the comments section.