AMD Athlon Silver 3050e vs AMD Ryzen 7 PRO 2700U
AMD Athlon Silver 3050e
► remove from comparison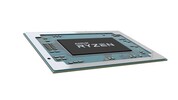 The AMD Athlon Silver 3050e (Codename Dali) is a mobile APU that integrates two Zen cores (with SMT, therefore 4 threads) clocked at 1.4 to 2.8 GHz. The TDP is specified at 6 Watt and therefore the chip can be passively cooled. The integrated Radeon graphics card offers 3 CUs at up to 1000 MHz (Radeon RX Vega 3). The dual channel memory controller supports only DDR4-2400. The chip is manufactured on a 14 nm node and officially counted to the 3000 series of mobile processors.
More information on Raven Ridge can be found in our launch article.
Performance
The average 3050e in our database is in the same league as the Celeron N4120, as far as multi-thread benchmark scores are concerned. In other words, a slight amount of the AMD Zen magic has not helped this chip much. Its performance can be described as fairly slow, as of mid 2023.
Your mileage may vary depending on how high the CPU power limits are.
Power consumption
Much like Intel's N-class Celeron and Pentium processors, the AMD 3050e has a 6 W TDP (also known as the long-term power limit). This is not much at all and thus good enough for passively cooled tablets, laptops, mini-PCs.
This APU is built with a 14 nm process making for poor, as of early 2023, energy efficiency.
AMD Ryzen 7 PRO 2700U
► remove from comparison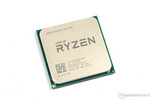 The AMD Ryzen 7 PRO 2700U is a mobile SoC that was announced in October 2017. Compared to the consumer Ryzen 7 2700U, the PRO versions offer additional security features. It combines four Zen cores (8 threads) clocked at 2.2 - 3.8 GHz with a Radeon RX Vega 10 graphics card with 10 CUs (640 Shaders) clocked at up to 1300 MHz. The TDP can be configured by the laptop manufacturer between 12 to 25 Watt (15 Watt nominal) and therefore the APU is also suited for thin and light laptops. The integrated dual-channel memory controller supports up to DDR4-2400 memory. More information on Raven Ridge can be found in our launch article.
The performance of the Zen CPU cores should be better than a high end Kaby-Lake-Refresh Quad-Core CPU (e.g. the Core i7-8650U) according to AMD. Therefore, the Ryzen 7 PRO 2700U is suited for all applications.
Model
AMD Athlon Silver 3050e
AMD Ryzen 7 PRO 2700U
Series
AMD Raven Ridge (Ryzen 2000 APU)
AMD Raven Ridge (Ryzen 2000 APU)
Codename
Dali (Zen)
Zen
Series: Raven Ridge (Ryzen 2000 APU) Zen

| | | | |
| --- | --- | --- | --- |
| AMD Athlon Silver 3050e « | 1.4 - 2.8 GHz | 2 / 4 | 4 MB L3 |
| AMD 3020e | 1.2 - 2.6 GHz | 2 / 2 | 4 MB L3 |

Clock
1400 - 2800 MHz
2200 - 3800 MHz
L1 Cache
192 KB
384 KB
L2 Cache
1 MB
2 MB
L3 Cache
4 MB
4 MB
Cores / Threads
2 / 4
4 / 8
TDP
6 Watt
15 Watt
Technology
14 nm
14 nm
Socket
FP5
AM4
Features
DDR4-2400 RAM, PCIe 3, MMX, SSE, SSE2, SSE3, SSSE3, SSE4A, SSE4.1, SSE4.2, AVX, AVX2, BMI2, ABM, FMA, ADX, SMEP, SMAP, SMT, CPB, AES-NI, RDRAND, RDSEED, SHA, SME
XFR, FMA3, SSE 4.2, AVX2, SMT
iGPU
AMD Radeon RX Vega 3 ( - 1000 MHz)
AMD Radeon RX Vega 10 ( - 1300 MHz)
Architecture
x86
x86
Announced
Manufacturer
www.amd.com
www.amd.com
Transistors
4500 Million
Benchmarks
Performance Rating
- CB R15 + R20 + 7-Zip + X265 + Blender + 3DM11 CPU
- Athlon 3050e