Against all odds, the Samsung Galaxy S7 could be set to receive the Android Pie-based One UI update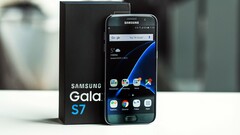 The Samsung Galaxy S7 was released over three years ago, and has received its two promised major OS updates—Nougat and Oreo. According to new information, however, the device could be set for one last hurrah, with Samsung apparently working on an Android Pie-based One UI update for the phone.
Samsung released the Galaxy S7 back in 2016. The flagships ran on Android Marshmallow out of the box, but has received the Nougat and Oreo updates since then, which makes for the two major updates Samsung usually provides its flagships with. It would appear that the S7 could be set to do what no other Samsung device has ever done—get three major updates.
According to a report by XDA-Developers, the Galaxy S7's product page on the Wi-Fi Alliance's website shows the device listed with Android Pie. It's not much to go by, we have to admit, but it's something. We're also inclined to believe that such a listing couldn't have been an error, as it's official documentation for the device's certification.
That said, this isn't the first time we've received similar information. Last year, there were rumors that the S6 would receive Oreo, but those turned out to be false. If nothing comes of this, we would not be surprised. However, the fact that the Galaxy Note FE, a device running on similar hardware as the S7, has received Pie does give us hope.