Zotac announces this year's mini PC updates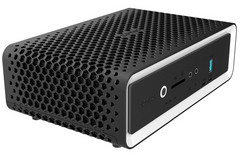 The 2018 Zotac mini PCs will get CPUs ranging from Gemini Lake ultra-low voltage chips to six-core gen 8 processors from Intel. The fanless models will feature redesigned chassis that support processors with TDPs up to 25 W, allowing for pre-overclocked Kaby Lake-R processors.
Zotac's entire mini PC lineup will get a refresh this year, featuring low-end models powered by Gemini Lake CPUs all the way up to workstation-class models integrating Nvidia Quadro GPUs. For those that are concerned with fan noises and need a quiet environment, Zotac also provides fanless models with an improved heat dissipation system that support gen 8 Intel quad-core CPUs. The redesigned fanless chassis now support CPUs up to 25 W TDP, essentially enabling Zotac to offer pre-overclocked Kaby Lake-R processors. The Gemini Lake platform with its latest Pentium and Celeron processors is designed to make full use of the HDMI 2.0 support provided by Intel.

Additionally, Zotac will be updating the Magnus mini PC series with gen 8 Intel 6-core CPUs. For the VR fans, a new version of the VR Go backpack will be made available with GTX 1080 GPUs. More details on the new mini PC lineups and pricing will be released at CES 2018.