Yesterday we detailed how ASRock had confirmed to a user on twitter than 200-series motherboards wouldn't support Coffee Lake. Today Chinese language website, PCEva, leaked product roadmap slides for Intel's new CPU and chipset, which is reported in English by VideoCardz.

We can see from the slides that the platform will have up to six cores at a TDP of 95 W, with four cores at a 65 W TDP. Dual-core options at 35 W TDP are planned for release at the end of 2017 or early 2018. Surprisingly these processors are also specified as Socket 1151, possibly confusing in regards to the comments from ASRock.

The more interesting slides are those detailing the motherboard chipset. The first motherboards will be running on a Kaby Lake Refresh chipset, labeled as Z370. This refresh has support for Coffee Lake processors, DDR4-2666 memory, improved memory overclocking, and up to 24 PCI-E lanes. In 2018 we can expect motherboards which are running Cannon Lake chipsets (labeled as 300-series) which natively bring improved audio, 802.11ac, USB 3.1 Gen2, Thunderbolt 3, and C10 + S0ix power management, when compared to Kaby Lake Refresh.

Based on the color coding of the "Desktop Chipset Roadmap" slide and the large "Coffee Lake-S Platform Chipset" square in the bottom corner, it appears to be confirming the statement made by ASRock around CPU backward compatibility with 200-series chipsets. If that is indeed the case and there are limitations imposed by the motherboard chipset, then the use of Socket 1151 is a very confusing decision from Intel.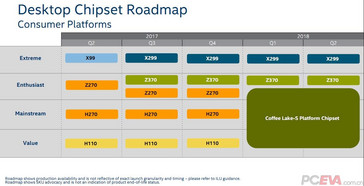 I grew up in a family surrounded by technology, starting with my father loading up games for me on a Commodore 64, and later on a 486. In the late 90's and early 00's I started learning how to tinker with Windows, while also playing around with Linux distributions, both of which gave me an interest for learning how to make software do what you want it to do, and modifying settings that aren't normally user accessible. After this I started building my own computers, and tearing laptops apart, which gave me an insight into hardware and how it works in a complete system. Now keeping up with the latest in hardware and software news is a passion of mine.