First Coffee Lake notebook leaked: a 15W quad-core?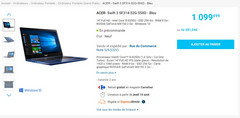 The first laptop to use Intel's upcoming Coffee Lake platform has appeared on a French e-commerce site. The Acer Swift 3 appears to use a 15W i5-8250U CPU billed as "Quad-Core". If the i7's will be hyper-threaded as Intel's HQ-series are, this will be a major step forward for ultraportable computing power.
During Intel's Computex presentation, the company shared details about its upcoming 8th generation Coffee Lake mobile CPUs. Teased as being up to 30 percent faster than Kaby Lake, Coffee Lake is a further refinement of the Skylake and Kaby Lake 14nm FinFET process. The most recent word on Intel's 8th generation chips said they'd be released in the second half of 2017, and it looks like the very first Coffee Lake-based laptop has leaked online.
The laptop, found on french e-commerce site Rue Ru Commerce, is an Acer Swift 3 (SKU: SF314-52G-55XD). The Swift 3 is a 1.7kg 14-inch multimedia-focused laptop powered by Intel's Core i5-8250U CPU and Nvidia's new GeForce MX150 2 Go GPU. It looks to be a decent laptop by most measures, but we're most interested in the CPU, of course. The news here is that the i5-8250U is billed as a "Quad-Core" CPU on the website. If the information on is correct, this would be the first 15W quad-core U-series CPU. Until now, all of Intel's quad-core CPUs have been the company's 45W HQ-series CPUs. As expected based on information from Intel's presentation at Computex, the base clock of the 8250U is a low 1.6 GHz but can turbo boost up to 3.4 GHz. Unlike the previous generation's processors, however, this U-series CPU does not appear to be hyper-threaded. Perhaps the Coffee Lake U-series i7 CPUs will be — time will tell.