Essential phone is going global, hitting Europe and Asia sometime soon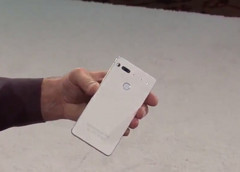 Andy Rubin's Essential phone is no longer a North American exclusive. His company has announced that the United Kingdom and several other European countries as well as Japan are next in line to receive the device.
Andy Rubin has his sights set not on one country, not on one continent, but on the entire world. His Essential phone, which was first announced for the United States and later Canada, is now headed to Europe and Japan.
According to The Verge, Essential is in the process of penning launch agreements with various European wireless carriers in the United Kingdom including EE. The company has already signed exclusivity deals with Sprint in the US and Telus in Canada. These two carriers will be the sole retailers of the Essential phone in their respective countries. The phone itself will be sold unlocked, though, so it will work on other carriers. No word yet on which Japanese mobile network operators will carry the Essential phone.
The Verge's report also focuses on the Essential phone's missed June launch. Essential COO Niccolo de Masi called the handset's release "imminent" but failed to provide a specific delivery date for pre-orders of the device. It's a bummer for those who were expecting to have one of the handsets in their hands by now.