Xiaomi Mi 10 Ultra: Leaks confirm the design and heady specifications of August 11-bound flagship as questionable prices imply a 2.5x price gap to the Redmi K30 Ultra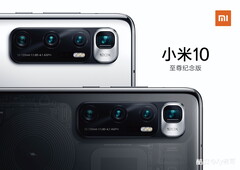 Xiaomi has already confirmed plans to announce the Mi 10 Ultra on August 11, along with a teaser image of the device's box art. August 11 is the same day when Xiaomi will unveil the Redmi K30 Ultra too, which is tipped to feature MediaTek's latest and greatest SoC, the Dimensity 1000+. While little information has been leaked about the latter, a host of details about the Mi 10 Ultra have now appeared online.
Firstly, @yabhishekhd has published some supposed prices for the two devices. According to the photo, which we have included below, the Mi 10 Ultra will start at CNY 6,299 (~US$904), while the Redmi K30 Ultra will cost from CNY 2,399 (~US$344) to CNY 3,499 (~US$502). @yabhishekhd has not provided a source for this information and the information is not being circulated elsewhere. The photo does contain a Weibo watermark, but one person claims that they cannot find the image on the platform. Hence, we would file this one in the unlikely pile for the time being.
Some seemingly concrete details have been published online about the Mi 10 Ultra, though. On the one hand, multiple marketing images of the Mi 10 Ultra have leaked. The designs presented are consistent across the three images and match what would appear to be a hands-on picture of the Mi 10 Ultra retail box. The images only reveal the back of the Mi 10 Ultra, but they do show the device in two colours. According to @RODENT950, the silver model has a ceramic back, while the darker version has a transparent finish. It would seem that the device has a translucent back panel rather than a transparent one, but it should still appeal to those who were fans of the Mi 9 Explorer Edition.
Additionally, the renders show that the Mi 10 Ultra will support up to 120x zoom. Presumably, this will be 120x digital zoom, as 120x optical zoom would be beyond the capabilities of any contemporary smartphone camera sensor. @RODENT950 claims that the Mi 10 Ultra will only support up to 4x optical zoom. The camera housing is also adorned with the text "12-120mm 1:1.85-4.1", denoting the device's zoom capabilities and "ASPH" to signify that it has an aspheric lens. You can read more about ASPH lenses here.
Other specifications and configurations have leaked too. Apparently, the Mi 10 Ultra will be powered by the Snapdragon 865 Plus, LPDDR5 RAM and UFS 3.1 storage. Also, the device will have a VC liquid cooling system and a next-generation in-screen fingerprint scanner. Separately, Ross Young of Display Supply Chain Consultants claims that the Mi 10 Ultra will "likely be" the first smartphone with an "under panel camera". This technology has been in development for a while, but Young states that Xiaomi will produce hardly any Mi 10 Ultra units, as it did with the Mi Mix Alpha. Finally, the Mi 10 Ultra will supposedly be available in the following configurations:
8 GB RAM / 256 GB storage - Ceramic edition
12 GB RAM / 256 GB storage - Ceramic edition
12 GB RAM / 256 GB storage - Transparent edition
16 GB RAM / 512 GB storage - Transparent edition