Windows 10 Settings app to get some Fluent Design makeover in 'Redstone 4'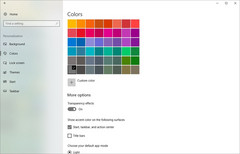 Upcoming builds of the 'Redstone 4' early development branch of Windows 10 will feature Fluent Design System elements being incorporated to the Settings app. As development of 'Redstone 4' progresses, we can expect to see more Fluid Design elements being incorporated in key areas of the user interface and inbox apps.
Now that the Fall Creators Update (FCU) has begun to officially roll out in a phased manner, Microsoft is hard at work on the next feature update to Windows 10, codenamed 'Redstone 4'. Upcoming builds for Insiders in the Fast Ring will feature Fluent Design System elements such as Acrylic and Reveal in the Settings app. The app will also feature a better streamlined layout of different settings. This is part of Microsoft's efforts to bring a cohesive user interface across various categories of Windows devices from PCs to mobiles, Xbox, Surface Hub, and HoloLens.
Microsoft's Fluent Design System is still in its infancy and is yet to permeate throughout the OS but that is exactly what Microsoft intended in the first place. Fluent Design System is the successor to the Microsoft Design Language 2 (MDL 2) that is designed to gradually evolve with time with the goal of providing user interface consistency across different categories of devices. Fluent Design APIs were first available starting with the Creators Update and have now progressed into the FCU. In 'Redstone 4', many more shell components and inbox apps could very well receive the Fluid Design treatment.
'Redstone 4' is pegged to be a large feature update featuring more Fluid Design goodness across the shell and will incorporate features that didn't make the cut in the FCU such as Timeline and Cloud Clipboard. Early builds of 'Redstone 4' are available now for Insiders in the Fast Ring and those in the Skip Ahead ring.