The PlayStation 4 has now shipped 76 million units, set to overtake PS3 sales by year end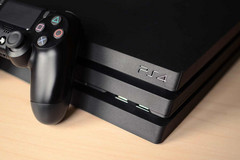 Sony's PlayStation 4 remains one of the company's biggest revenue sources. The console sold 2.5 million copies in the first quarter of this year to extend its all-time sales to a massive 76 million. That figure is expected to rise across all coming quarters of the year, with new games like God of War, and the upcoming Red Dead Redemption 2 and Spiderman.
The PlayStation 4 is, without a doubt, the most successful console of this generation. Sony Interactive Entertainment ended 2017 with 73.6 million units sold but, over the first quarter of this year, managed to ship an extra 2.5 million units, placing total sales of the console at an impressive 76.1 million.
More impressive is the fact that Q1 2018 had no major sales-pullers. Games like Monster Hunter: World and Shadow of the Colossus were released in Q1 but those are hardly the games people buy the PS4 to experience. Sony shipping 2.5 million units in that period speaks of the console's steady pull.
While Q1 may not have had major sales movers, Q2 began with a bang, with the new God of War sure to be a massive attraction. There's also the upcoming Spiderman game coming out in Q3—and Red Dead Redemption 2 in Q4—that's sure to boost sales even further. It's entirely likely that 2.5 million is the lowest quarterly shipment figure Sony records this year.
The 2.5 million units sold is a slight drop from 2.9 million units in the previous quarter, in fact, but Sony's software sales saw slight growth, going from 50 million sales to 52 million across the two quarters. Of those, 43% were digital copies, a 37% year-on-year increase.
Note that Sony's fiscal year ends with the first quarter of the regular year. The company expects to ship 16 million PS4 units in the just-begun fiscal year. This would hypothetically see the console reach 92 million shipped, finally exceeding the PS3's all-time sales figure of 87 million.