The OnePlus X is getting Android 6.0.1 more than a year after its release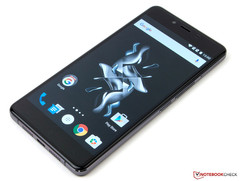 Better late than never. OnePlus X customers will be happy to hear that OnePlus released Oxygen OS 3.1.2 today, which will update the OnePlus X to Android 6.0.1 more than one year after its initial release.
More than a year after its original release, OnePlus stated updating its midrange OnePlus X smartphones to Android 6 with the release of Oxygen OS 3.2.1, which began to roll out to customers as an over-the-air (OTA) update today. It might take a while for all phones worldwide to get the update though. OnePlus did not only upgrade Android to Marshmallow, they also updated the launcher, a couple of apps and also mentioned general bug fixes and performance enhancements in the relevant thread on their forums.
OnePlus also decided to update the Android patch level to October, which is certainly a welcome gesture to its customers. The OnePlus X was last year's midrange smartphone in the 2015 lineup before OnePlus decided to concentrate on the OnePlus 3 this year and not release a successor to the OnePlus X anymore. Many customers were unhappy about the fact that OnePlus seemingly neglected the OnePlus X and never officially released Android 6 for it, until now.