First OnePlus 4 rumors surface online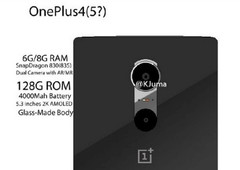 The next-gen OnePlus handset is expected to feature a dual camera setup, next to 6 GB or 8 GB of memory and a Qualcomm Snapdragon 830 or a Snapdragon 835 processor. Multiple variants could hit the market as well - at least two with different amounts of memory.
While the Qualcomm Snapdragon 821-powered OnePlus 3T is expected to hit the market next week, the first rumors concerning the next-gen OnePlus flagship are already online. Currently known as OnePlus 4, this handset is expected to carry a few major improvements and to become available in the first half of 2017.
The OnePlus 4 is expected to debut in two variants that would feature 6 GB and 8 GB of memory, while the processor used will be the Qualcomm Snapdragon 830 or the Snapdragon 835. However, having two different processors for the variants mentioned earlier should be taken into account as well. A dual lens camera setup for augmented reality is also expected to feature in the mix, next to 128 GB internal storage, a 4,000 mAh battery and a 5.3-inch 2K AMOLED touchscreen.
For now, all the above should be taken with a grain of salt, but more information should arrive in the coming months, so stay tuned.