OnePlus 3: Production stop and new model with LCD-panel possible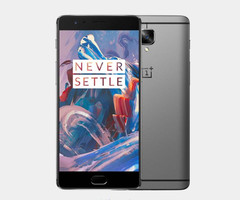 According to industry sources, OnePlus could stop production of the OnePlus 3 in order to have free capacities for a follow-up model with LCD-panel and Snapdragon 821 processor.
According to Gizmochina, who got word from industry sources, the ongoing shortage of AMOLED-panels that are needed for the production of the OnePlus 3 might be the reason behind the ongoing delays in delivering OnePlus 3 models to its customers. At the moment, orders for the "Graphite"-model take 14 days to ship, whereas the golden model is available immediately. Gizmochina says, that OnePlus may therefore stop production of the OnePlus 3 soon in order to be able to start producing a new version that, apparently, will have an LCD-panel instead of the AMOLED version.
It may also come with a slightly updated processor, the Snapdragon 821 instead of the Snapdragon 820 in the current version. At the moment, these rumors have not been confirmed or denied by the Chinese company so take them with a grain of salt. The sources did mention that the graphite model is sold out while the golden one is still in stock. Currently we do not know whether the newer version of the OnePlus 3 will be named OnePlus 3s or OnePlus 3 Plus or something else altogether. We will update you as soon as we get more information in this matter.