OnePlus 3T: $480 for the successor to the OnePlus 3?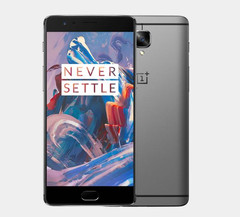 A successor to the OnePlus 3 might be called the OnePlus 3T and the company may decide to charge $80 more for it, according to leaker Evan Blass. It may still take some time to arrive however.
Early October there were lots of reports about a new OnePlus model coming soon, allegedly being called the OnePlus 3s. It was said, that the current shortage of AMOLED panels led to a development of a new version using LCD panels instead of AMOLED but OnePlus CEO Carl Pei quickly set things straight on Twitter, saying that OnePlus will stick with AMOLED for the foreseeable future.
Now, new rumors about a new version of the OnePlus 3 have cropped up again, starting with the certification of a new phone model named A3010 at Chinese 3C, followed by a post from an alleged OnePlus designer on Chinese Weibo, that apparently came from a phone named OnePlus 3T.
Yesterday, famous leaker Evan Blass twittered about the OnePlus 3T as well, suggesting that the new version might take a bit more time and be $80 more expensive. We expect the new OnePlus 3 model to be very similar to the current model, except for a Snapdragon 821 processor and preinstalled Android 7.