OnePlus 3 running out of stock: New version coming?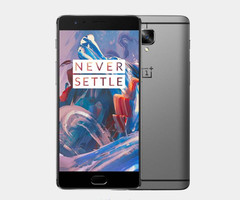 Chinese Weibo is the source of a new rumor that a new version of the OnePlus 3 is coming. The current OnePlus 3 seems to run low on stock again and takes at least three weeks to ship in the US.
Back in August of this year, OnePlus was running out of stock on their sucessful OnePlus 3 smartphone. The company had to stop sales in some European countries and it helped with inventory but it seems like stocks are running low again these days. Orders in OnePlus' officiall online store are shipping three weeks late at the moment and rumors on Weibo mentioned that shortages on AMOLED panels are to blame for the apparent lack of stocked units.
Chinese analyst Pan Jiutang recently posted on Chinese Weibo, that a new version of the OnePlus 3 might be imminent. Details of that post seem to be lost in translation as various reports are unsure about the name of that alleged successor to the OnePlus 3. No matter if it will be called OnePlus 3s or OnePlus 3 Plus, at the moment you should take these rumors with a grain of salt. Reports mentioned higher screen resolution, a Snapdragon 821 processor and a bigger battery as three possible improvements over the current version. Let's wait and see!