The One-Netbook One Mix 3 is arriving sooner than expected - white SKU seemingly planned too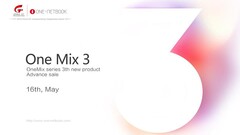 Set your alarms to next Thursday. One-Netbook has already revealed most of the specifications for its next device, the One Mix 3, and now it has confirmed when it will be making the mini laptop available to pre-order too. It is still keeping pricing secret though.
One-Netbook wants your money next week, although we still do not know how much. It has only been about two weeks since the company announced most of the specifications for the One Mix 3 and on a few days since it unveiled what the device would look like, but it has already confirmed that it will be available to pre-order next week.
Specifically, One-Netbook announced via Facebook that it would start taking pre-orders on May 16, which is next Thursday. Previously, the company stated that it would release the device in June, so orders may not ship until then. Unfortunately, the company is still yet to confirm how much the One Mix 3 will cost, which is rather crucial.
If you missed our first article on the One Mix 3, the device is a mini laptop with an 8.4-inch touchscreen display. The Intel Core m3-8100Y will power the device, which One-Netbook has complemented with 8 GB of LPDDR3 RAM and a 256 GB or 512 GB PCIe NVMe SSD. There is an additional M.2 SATA port too for up to 2 TB SSDs. Finally, the One Mix 3 will measure 204 x 129 x 14.9 mm and will weigh approximately 659 g (~ 1.5 lbs).
One-Netbook has released more photos too including three size comparison photos to give you a better idea of how big the One Mix 3 will be. Interestingly, it appears that the company has a white SKU planned too. There is no confirmation on this yet, but one of the photos clearly shows a white version.
We shall keep you updated with any subsequent news about the upcoming mini laptop as and when it comes to our attention.