One-Netbook is preparing the One Mix 3S with Core i5-8200Y for release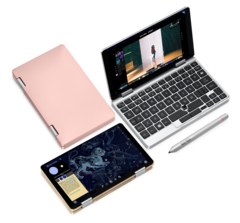 One-Netbook has another product coming to the market in the form of the One Mix 3S mini laptop. The 8.4-inch computer will be powered by an Intel Core i5-8200Y and pack 16 GB RAM and a 512 GB SSD in its compact frame. According to leaked advertising material, the One Mix 3S will be released on May 21.
The One Mix 3S mini laptop takes up where the One Mix 2S left off. Where the latter sported an Intel Core M3-8100Y processor, 8 GB RAM, and 256 GB storage, the former will eclipse all those key specifications and offer consumers a much more powerful PC in a tiny package.
Behind the 8.4-inch 2560x1600 touchscreen there is an i5-8200Y and 16 GB RAM performing processing duties. For storage, One-Netbook has selected a 512 GB PCIe NVMe solution for the One Mix 3S. An 8,600 mAh battery keeps things ticking along and there is connectivity in the shape of USB Type-C, USB Type-A, micro HDMI, and a microSD slot.
The One Mix 3S is expected to come in black and will also feature the convenient convertible features that its predecessor had. Once again, One-Netbook has upped the ante with the latest entry to the series by offering a compatible stylus (purchased separately) with 4,096 pressure levels, twice as many as the stylus for the One Mix 2S. No price is advertised yet, but a mini laptop that packs this kind of punch isn't going to come cheap.