The Huawei P20 devices will not be coming to the US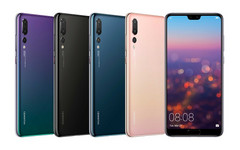 The new Huawei P20 and P20 Pro have been hailed as game-changing camera smartphones and are already in the running for best flagships of the year. The US, sadly, will never get to enjoy the devices, with Huawei apparently not ready to make another attempt at selling its smartphones in the US.
Huawei launched the P20 and P20 Pro devices a few days ago at an event in Paris. Both devices, the P20 Pro particularly, have been hailed as possibly being some of the best flagships of the year. It's still early days yet, of course, but that's an opinion we're not averse to, especially considering the P20 Pro's impeccable camera performance. Sadly, it would seem the devices will not be making the trip over to the US anytime soon.
This comes as no surprise, of course. The US government seems to have something of a vendetta against Huawei, citing concerns over issues with data siphoning and privacy breaches. The company, over the past few months, have seen partnerships with AT&T, Verizon, and Best Buy fall through, all but putting paid to any hopes of Huawei gaining a foothold in the competitive US market.
Fans of Huawei who absolutely need the devices will likely be better served importing them, perhaps from Canada where they are billed to be sold by all major carriers. Those willing to go that route would do well to watch out for the devices' supported network bands, though.