Huawei Y7 Prime 2018 official specs released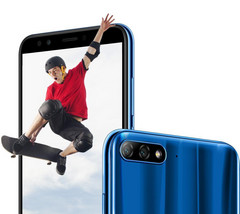 The Y7 Prime 2018 is aimed at youths and comes with way more affordable prices compared to the P20 lineup or the Mate RS. There is no notched display here, even though the 2:1 aspect ratio 1440 x 720 IPS screen might still feel a bit awkward. Powered by a Snapdragon 430 octa-core SoC, the Y7 Prime 2018 edition features 3 GB pf RAM, 32 GB internal storage, 8 MP selfie cam and a 12 MP + 2 MP rear cam setup.
Together with yesterday's unveiling of the P20 lineup and the Mate RS, Huawei also revealed the specs for the Y7 Prime 2018 edition, which targets youths who cannot really afford premium models.

What sets the Y7 Prime apart from the premium flagship models is the absence of the notched display. However, this affordable smartphone still comes with a 5.99-inch 2:1 aspect ratio 1440 x 720 IPS display. As far as cameras are concerned, the Y7 Prime integrates an 8 MP selfie cam with face detection on the front and a rear dual cam setup made up of a main 13 MP sensor that is capable of HDR and [email protected] fps video recording, plus a 2 MP one that is responsible for depth of field and bokeh effects. The back of the phone is also hosting a circular fingerprint sensor.

At the heart of the Y7 Prime 2018 edition is Qualcomm's Snapdragon 430 octa-core SoC that runs at 1.4 GHz. This is coupled with 3 GB of RAM and 32 GB internal storage that can be easily expanded through the provided microSD slot. Additionally, the phone can work in dual SIM mode.

This year's Y7 Prime will run Android 8.0 out of the box in conjunction with Huawei's customized EMUI 8.0 launcher. The smartphone is only 0.3 inches thick and weighs 5.46 oz, including the 3000 mAh battery.

Pricing information has not yet been released, but the Y7 Prime 2018 should be released in April with black, blue and gold color options.