Patent for Huawei foldable smartphone discovered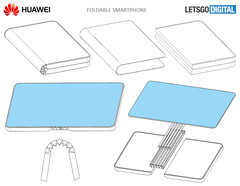 Dutch website LetsGoDigital has uncovered a patent for a foldable phone filed by Huawei in September 2017. The Chinese technology company seems to have developed a tablet-sized device which when folded would be the size of a regular smartphone. The central "gap" problem, created when a foldable dual-screen smartphone is opened up, has been addressed by making the device bendable.
A patent filed with the World Intellectual Property Organization (WIPO) by Huawei for a foldable smartphone has been unearthed by LetsGoDigital. Illustrations for the proposed device show it to look akin to a book when folded and like a tablet when unfolded.
The Chinese firm wants to avoid having a gap down the center of its foldable smartphone, like the ZTE Axon M has because of its dual-screen technology. Huawei has "solved" this issue by making the device, and the screen, fully bendable. Even though the Shenzhen-based manufacturer has only just launched the P20 handsets, it seems there will be no time for rest when it comes to smartphone development.
There has been something of a technology race between some of the major smartphone manufacturers in regard to foldable smartphones. Apple may have a foldable iPhone ready by 2020, Samsung could be working on a flexible smartphone with a slide-out display, ZTE is apparently planning on developing a true foldable phone (with a single display), and even Motorola is rumored to be creating such a device.
Of course, patented ideas don't always come to fruition, but it would be very interesting to see which company comes up with the first true foldable smartphone and how it fares in the fiercely contested smartphone market.