Huawei tipped to win the race to release a truly foldable phone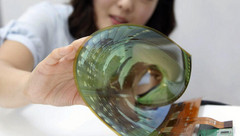 ETNews has claimed that Huawei will announce a truly foldable phone in November of this year. According to the South Korean news outlet's sources, the Shenzhen-based company will show off the device to the public for additional research purposes, but it won't be immediately available for purchase. It would be quite a coup for Huawei to beat rivals such as Samsung and Apple in this particular race.
ZTE has already introduced a "foldable" phone to the smartphone market, but the Axon M utilizes two separate displays that are connected by a hinge. What the world is waiting for is a truly foldable phone that uses a flexible display. Sources for ETNews (via PhoneArena) have stated that Huawei is advancing rapidly in this field of technology and will be ready to unveil a foldable device in November. Apparently, the flexible smartphone will have an "inward fold" and will possibly use OLED screens supplied by LG.
Unsurprisingly, there is no information in regard to specifications. It is likely that if Huawei does reveal such a device in November, it will be a prototype used to measure consumer interest in this type of product. The Chinese tech firm is currently the world's third-largest smartphone manufacturer, but there has been speculation that the company that wins the race to produce an acceptable truly foldable smartphone would end up commanding a strong position in this nascent market. This would be a much-needed boon for Huawei, which has been struggling with issues in the US and Australia recently.
It is currently unknown whether or not Huawei's rumored truly foldable phone will feature a notch or two.