Unconfirmed | The Huawei P20 devices are on their way to Canada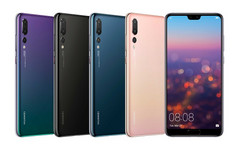 Huawei's battles with the US government has ensured that the company's new P20 devices will not be sold in the country. Those in Canada can rest easy, though, as the devices will make their way over, and will be sold by all major carriers.
Update: Do note that the details of the purported Canadian launch given in the article below remain unconfirmed. Both parties—Huawei and Canadian carriers—are yet to give definite answers on their plans for the devices.
Original Article
Huawei and ZTE may be in a massive tussle with the US government but the Canadian government—quite unsuprisingly—is a lot more tolerant of foreign companies. The former released the P20 devices towards the end of March. All three devices have gone on sale in Europe since then but are yet the make the trip across the pond to North America. It would seem that there's a scheduled date for that trip now, with reports claiming the device will be available in Canada next month.
According to sources, the devices will become available in Canada on May 17. All major carriers—Rogers, Bell, Fido, etc—will sell the devices under their banners. Prices are unknown but we expect the P20 Pro to come with an MSRP in the region of CDN$999. That's just conjecture, of course.
As previously reported, the devices will not be coming to the US, and for obvious reasons. Potential buyers in the US who absolutely need the device can order from right across the border.
Meanwhile, the P20 devices will be launched in India on April 24, and will come as Amazon exclusives.