The Huawei Mate 30 Pro has the world's most powerful camera specs in a phone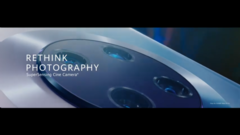 The Huawei Mate 30 Pro has a new quadruple rear camera set-up that incorporates dual 40MP shooters. One of these is a "dedicated cine-camera" for 4K HDR recording at 60fps. This device also offers 10x zoom with an ultra-low ISO of 51200 and up to 7680fps slow-motion. These specs beat those of competitors such as the Samsung Galaxy Note 10 series by a good margin.
The new Huawei Mate 30 series comes with a range of new or upgraded camera features, including "Pro-Bokeh" for the Portrait Mode, HDR+ wide-angle shooting and a 10x zoom option in the Pro variant. This form of Mate 30 is also equipped with quad rear cameras, one of which is a 40MP "dedicated cine-camera".
The OEM asserts that it is rated for 4K video at 60 frames per second (fps), as well as HDR+ time-lapses. However, the ISO in this entire camera set-up has also been upgraded to 51200 (as opposed to about 6400 in the average flagship). Huawei claims that this property enables the Mate 30 Pro to make clear watchable videos in much lower light compared to the Samsung Galaxy Note 10 Plus.
Most impressively, however, is the new slow-motion feature found in the Mate 30 Pro. As alluded to in a last-minute leak, its maker asserts it can go up to 7680fps, as opposed to 960 in the Galaxy Note 10 Plus or 240fps in the iPhone 11 Pro Max. This was demonstrated through comparative videos of an exploding balloon against a "~150,000 USD professional device". The new Mate was associated with a 1920fps clip against 1977fps in the "pro camera".
Huawei also ascribes other improved features to the 30 Pro, including real-time bokeh in recordings thanks to its 3D-TOF camera. The OEM also debuts dual optical (OIS) and AI-aided (AIS) stabilization in this phone. Finally, even the new phablet's 32mp front-facing camera is apparently rated to take "professional" selfies.