Single-core vs multi-core: Latest Intel Core i9-11900KF Geekbench run shows improvement but it's the same old story as the AMD Ryzen 7 5800X offers multi-core magnificence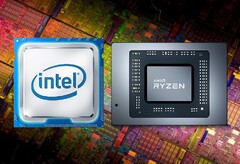 The upcoming Intel Core i9-11900KF has made another appearance on Geekbench 5 and pulled out an improved multi-core performance than the muted effort we previously reported on. The Rocket Lake-S chip also managed to slightly improve on its impressive single-core mark. The i9-11900KF teamed up with an ASRock Z590M Pro4 board, Windows 10, and 16 GB dual-channel DDR4 SDRAM at 2128 MHz (2133 MHz). The Intel part managed a maximum frequency of 5.277 GHz, although Geekbench records 5.09 GHz.
With a single-core score of 1,688 points and a multi-core score of 8,529 points, this latest run for the Intel Core i9-11900KF shows improvements of +0.42% (single) and more importantly +22.30% (multi). With this stronger benchmark run, the 8-core, 16-thread i9-11900KF should hold up better against the AMD Ryzen 7 5800X that also has 8 cores and 16 threads but a lower TDP (105 W vs. 125 W). Rather than use the average scores in the Geekbench processor chart, we compared the Rocket Lake CPU's results with our own Ryzen 7 5800X results, which are higher.
What we see is a typical result when it comes to Intel vs. AMD comparisons. The i9-11900KF holds a very small advantage in the single-core run of +1.38% but then unsurprisingly gets blown away by the Ryzen 7 5800X in the multi-core discipline, with AMD's chip running away with a massive +33.12% difference. There is still plenty of discussion whether single-core performance is more important than multi-core performance, especially in gaming, but it is very hard to overlook a +33% difference compared to a +1.38% advantage here. Pricing and availability are going to be key factors for Intel in trying to secure a success story for the i9-11900KF.
My interest in technology began after I was presented with an Atari 800XL home computer in the mid-1980s. I especially enjoy writing about technological advances, compelling rumors, and intriguing tech-related leaks. I have a degree in International Relations and Strategic Studies and count my family, reading, writing, and travel as the main passions of my life. I have been with Notebookcheck since 2012.