The Intel Core i7-11700KF notches a single-core performance win against the AMD Ryzen 7 5800X in Geekbench, but Zen 3 Vermeer retains its advantage over Rocket-Lake S in multi-core work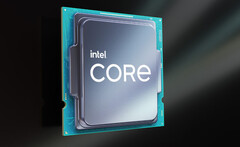 Working For Notebookcheck
Are you a techie who knows how to write? Then join our Team! English native speakers welcome!
News Writer (AUS/NZL based) - Details here
The arrival of Intel's Rocket Lake-S processors is almost upon us, so it should come as no surprise to see more models make their way to benchmarking websites like Geekbench. This time, it is the turn of the Core i7-11700KF, an unlocked Rocket Lake-S processor without integrated graphics. In short, the Core i7-11700KF should be a slightly cheaper version of the Core i7-11700K. Hence, the Core i7-11700KF would make it a good option for those who plan to pair a Rocket Lake-S processor with a dedicated GPU.
Someone has posted four Core i7-11770KF entries so far, which have averaged 1,798 in Geekbench 5.3 single-core and 10,304 in the multi-core benchmark. According to our database, a score of 1,798 would put the Core i7-11700KF behind, unsurprisingly, the Core i7-11700K. By contrast, the Ryzen 7 5800X could only muster 1,667, with the Core i7-10700K way back on 1,373. In percentage terms, this means that the Core i7-11700KF has approximately 7% better single-core performance than the Ryzen 7 5800X and is 30% better than the Core i7-10700K by the same metric.
Similarly, the Core i7-11700KF averaged 15% higher multi-core scores than the Core i7-10700K, despite its nominally lower clock speeds. The Core i7-11700KF's 10,304 multi-core average puts it slightly ahead of the Core i9-10910 too, even with two fewer cores. However, the Core i7-11700KF cannot hold a candle to the multi-core performance of the Ryzen 7 5800X, which scored 9% more than the unlocked Rocket Lake-S processor.
Overall, it seems that Intel has made strides with Rocket Lake-S compared to Comet Lake-S. Processors like the Core i7-11700KF appear to outperform Zen 3 Vermeer chips in single-core tasks, too. Unfortunately for Intel, the Ryzen 7 5800X offers more performance per core than comparable Intel processors and with a lower TDP.
Top 10 Laptops
Multimedia, Budget Multimedia, Gaming, Budget Gaming, Lightweight Gaming, Business, Budget Office, Workstation, Subnotebooks, Ultrabooks, Chromebooks
under 300 USD/Euros, under 500 USD/Euros, 1,000 USD/Euros, for University Students, Best Displays
Top 10 Smartphones
Smartphones, Phablets, ≤6-inch, Camera Smartphones