Samsung unveils a huge 583-inch enterprise-grade LED display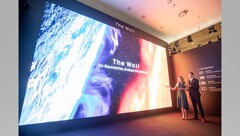 Samsung has announced that the business-grade versions of its bezel-free and ultra-thin Wall TV series now go up to 583 inches diagonally. This latest word in large-scale displays - which also has an 8K resolution - has been launched at the Integrated Systems Europe (ISE) 2020 conference.
Samsung's The Wall line-up includes consumer- and business-grade microLED displays designed to hang as flush to a surface as humanly possible. It includes Luxury variants that go up to 292-inch SKUs. Its Business 8K counterparts also includes a model of this size; however, its maker has just gone even bigger with this sub-set of the panel series.
The OEM has unveiled a new, 583-inch 8K Wall for Business at the ISE 2020 conference in Amsterdam. This new option supercedes the 437-inch variant that had been the biggest poster-thin panel Samsung had offered up till now. Alternatively, it also has 219- and 292-inch 4K versions.
Samsung is now confident that it has premium digital signage options for pretty much every corporate or commercial need out there. A company in need of slightly smaller displays might also consider the new SMART Signage line. These panels are based on QLED, have 65- to 98-inch variants, and are also the world's first 8K commercial displays to be capable of 24/7 screen-on operation.