PSA: Update your Lenovo ThinkPad X1 Carbon BIOS or be prepared to wait 6 hours for a full charge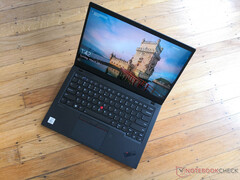 The latest BIOS and Thunderbolt firmware update as of March 2 fixes the battery recharge rate of the ThinkPad X1 Carbon. If purchasing a unit from a reseller, the system may be outdated and in need of a manual update.
When testing battery life, we almost always drain the battery completely to record how long the laptop can last on battery power. Afterwards, we would then record how long the system would take to fully recharge from empty to full capacity. This typically takes 1.5 to 2.5 hours on most laptops. On the Lenovo ThinkPad X1 Carbon, however, a full recharge can take almost 6 hours.
We recently reviewed the 2019 ThinkPad X1 Carbon equipped with a Comet Lake-U Core i7-10510U CPU. Battery life is roughly the same as last year's model since they share the same 51 Wh battery capacity and chassis design, but the recharge rate on the newer model would be significantly slower even after applying all Windows updates at the time of review.
Thankfully, the slow recharge rate is an easy fix. Launch the included Lenovo Vantage software and run the system updates to download and install the latest Thunderbolt 3 and BIOS drivers for the laptop. After a system restart, recharging from empty to full capacity will take about 1.5 hours only.
For our full take on the ThinkPad X1 Carbon, see our existing reviews here.

Buy ThinkPad X1 Carbon, Core i7-10510U now on Amazon