OnePlus sets dates for 7T Series launch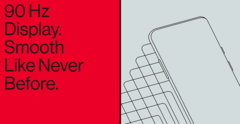 The OEM OnePlus has made its anticipated 7T series of phones official, and has also announced dates for its launch around the world. The first of these will be in India on September 26, 2019. The 7Ts will then get a 2nd event in London on October 10. There will also be a third, virtual event for the North American market.
OnePlus has categorically named the next smartphones they are going to sell as the 7T series for the first time, in conjunction with their launch announcement. There will be 3 separate events for 3 major regions: India, the UK (and also possibly Europe in general), and North America. The latter will be served with an online launch event on the OEM's own website, which will also be handled on Twitter and YouTube.
The 7T series is projected to consist of the 7T, the 7T Pro and perhaps the 7T Pro McLaren "Senna" Edition. OnePlus has not confirm the existence of these variants as yet; however, it has allowed that the new phones will have 90-hertz screens. The OEM also now claims that they will be "Smooth like Never Before", suggesting that they will offer even better viewing experiences compared to those of the existing 7 series.
Oddly, the company did not mention the upcoming OnePlus TV in its latest product introduction. It is also slated to launch in India to start off with, and it has been presumed that it would be released alongside the 7T series. On the other hand, company representatives have also stated that it will not be ready until OnePlus-specific content provision has been finalized with per-market partners.