OnePlus continues to dominate India's premium smartphone segment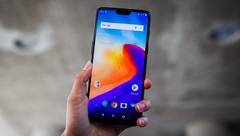 OnePlus may not be a big player in the global smartphone market but the company has continued its dominance over the premium segment of the Indian smartphone market, with the OnePlus 6 being the best-selling premium phone in India in Q3.
The premium segment of India's smartphone market has seen even more growth across the third quarter of the year. The Indian market as a whole has a massive bias towards high value for money offerings, so it's no surprise that OnePlus—a company that has built a reputation for offering high-value premium phones (>INR 30,000/US$400)—dominates that segment of the market.
According to Counterpoint Research, OnePlus continued its fine form from Q2 in this last quarter, as it led the premium segment of the Indian smartphone market. The company captured 30% of the segment, a significant drop from the 40% share it had in Q2 but enough to see it continue its reign. Samsung came in second with 28% of the market, a decline from the 34% posted in Q2. Apple completed the top three with 25%, up significantly from 14% in Q2. The top three OEMs in that segment—OnePlus, Samsung, and Apple—saw a drop in their combined market share, from 88% to 83%. This was as a result of the rise of companies like Vivo and Huawei.
Apple's numbers are about expected, of course, as the Cupertino-based company launched its new iPhone XS and XS Max devices at the end of the quarter. With those devices and the Samsung Galaxy Note 9 already launched, we expect OnePlus to extend its lead at the top of the market with the imminent release of the OnePlus 6T.