OPPO F7 coming with a notch on March 26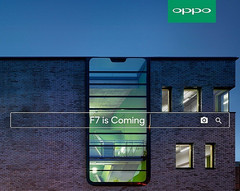 OPPO F7, the successor of the OPPO F5 lineup, will be unveiled on March 26. Although most technical details are still to be revealed, we know of the 6.2-inch display with a rather strange resolution of 2,280 x 1,080 pixels and its notch similar to that of the Apple iPhone X. This phablet also comes with a 25 MP selfie shooter that features HDR and AR capabilities, as well as AI Beauty 2.0 beautification.
When Apple's engineers created the iPhone X, they had to use a notched display to accommodate a bunch of sensors while keeping the screen-to-body ratio as high as possible. In the meantime, more and more devices embraced this solution, and at least some of them certainly did not need a notch. Anyway, the notch revolution has started already and most manufacturers simply chose ride the wave. OPPO, for example, will jump onto the notch boat with the upcoming F7 phablet.
The OPPO F7 will come with a 25 MP front camera and an excellent screen-to-body ratio of 89.09 percent. The camera is housed inside the space created by the iPhone X-style cutout in the display. Although 2:1 displays are now mainstream, the OPPO F7 comes with a 6.2-inch touchscreen that provides 2,280 x 1,080 pixels, so its ratio is a non-standard 19:9.
The selfie shooter mentioned above is accompanied by the AI Beauty 2.0 software that offers "differentiated beautification touches for different people, e.g. male or female, in a group photo." The front camera also features HDR and AR capabilities.
Unfortunately, there is no information about the processor, but we expect a Qualcomm Snapdragon 625 or a similar chip by MediaTek. After all, the OPPO F5 used a Helio P23 processor. The OPPO F7 is scheduled to arrive in India on March 26, so we should get all the details in about two weeks.