HP announces gen 2 Elite Slice mini PC for meeting rooms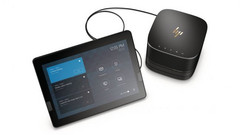 With the new Elite Slice G2 model, HP also included a "Center of Room" 12.3-inch tablet that makes it easy to setup meetings with little to no input from users. The tablet detects when people enter the meeting room, while the mini PC unit picks up sound from 5 meters away thanks to a far-field mic.
Even though HP is mostly known for its quality laptops, desktop PCs and printers these days, the company is also looking to expand in niche markets like small form-factor computers or PC monitors. HP's mini PC branch is among its newest and offers various configurations tailored for specific uses. One such specific device is the Elite Slice mini PC for meeting rooms that was originally launched in 2016, and HP just announced that a refreshed version will be available soon.

The Elite Slice for Meeting Rooms G2 is compatible with Skype Room Systems, offering additional meeting tools like the Center of Room Control 12.3-inch tablet that allows for better conference call management. The tablet integrates and advanced "presence sensor" that detects persons entering the room, making it easier to start meeting sessions with no input from the participants. Also included with the tablet is HP's Manageability Integration Kit, which improves the ease of use. Another great feature of the tablet is the smudge-resistant glass protecting the display.

HP does not inform about the improved CPU and GPU integrated in the latest Elite Slice models (first gen had Intel gen 6 i5 CPUs and integrated GPUs), however, it does mention a few new interesting additions that cover the business security aspects. Thus, the new Elite Slice comes with HP Sure Start and Dynamic Protection, plus a self-healing BIOS. Other new features include a streamlined UI and a far-field mic that picks up sounds from 5 meters away, also providing improved noise cancellation.

The Elite Slice for Meeting Rooms G2 will begin shipping some time in April for US$1,850.