Nvidia GTX 1170 beats GTX 1080 Ti in latest alleged benchmarks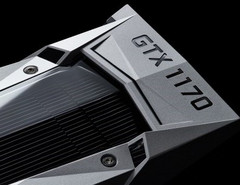 The leaked 3DMark picture shows some outstanding specs for the GTX 1170, besides the benchmark score. Apparently, the next gen GPU will come with as much as 16 GB of GGDR6 VRAM running at 2.5 GHz, which already sounds a bit exaggerated. Upon closer inspection, one could find a few red flags that signal faked information.
Nvidia is preparing to finally reveal the next gen gaming GPUs some time in August, and it looks like the green team managed to keep all the performance figures away from nosy leakers, even though the specs for the GTX 1170 and GTX 1180 cards were pretty much extrapolated from the Volta architecture released last year. Back in May, WCCFTech claimed that the GTX 1170 is almost as fast as the GTX 1080 Ti, but the latest leaked benchmarks for the upcoming GPU show that it beats the current flagship.

According to the latest leak that comes with a photo of a screen showing 3DMark results, the GTX 1170 is supposed to feature a 256-bit memory interface and as much as 16 GB of GDDR6 VRAM running at an outstanding 2.5 GHz frequency. With such high clocks, the GTX 1170 allegedly managed to outperform even the GTX 1080 Ti in 3DMark FireStrike test, scoring 29,752 points. Compared to the current gen GTX 1070, that would be a 65% performance gain.

A keen eye, however, would spot some glaring inadvertencies that prove the leak is most likely fake. First of all, pictures of screens without any screencaps are clearly fishy. Furthermore, there is no link to the actual 3DMark database entry, but this could be ruled out since the tester may have intended not to add an online entry. Last but not least, the test results should present the GPU as "Generic VGA" instead of the exact model denominator and manufacturer.

Theoretically speaking, the GTX 1170 was already expected to be on the same level as the current flagship, as the exact same thing has happened with the jump from the GTX 9xx series to the GTX 10xx series. The leak might be fake, but the performance numbers are probably close to reality.