IFA 2018 | Nubia showcases bracelet smartphone concept with flexible display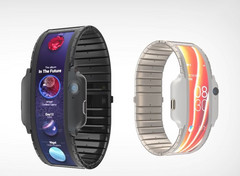 While Samsung, LG and Motorola are planning to release foldable phones next year, Chinese companies like Nubia are pushing for late 2018 releases. Even if it's not a full-fledged foldable phone, the Nubia Alpha bracelet concept showcases an interesting take on flexible displays. Specific details on hardware specs are not yet available, but the Nubia Alpha should launch in Q4 this year.
The advent of flexible displays should introduce some interesting smartphone designs in the next few years, making it the next big thing for handheld devices. We have already seenplans to implement foldable displays in Samsung's, LG's and Motorola's patents, but it seems like Chinese OEMs like Huawei, Xiaomi and ZTE / Nubia are pushing hard for early releases for their own foldable phones. While the big companies are carefully preparing the launch of their foldable devices, Nubia already showcased a working prototype for its first flexible display phone that comes in the form of a bracelet.

Before implementing the new flexible displays in handheld devices, Nubia is trying its hand at a bracelet / watch-like phone named Nubia Alpha that looks light on functions and hardware. The screen wraps around the wrist and is large enough to display more advanced apps, while the strap is made of metal alloy instead of cheap plastics or rubber.

According to Engadget, the Nubia Alpha is 4G compatible and allows users to make and receive regular calls, as well as video calls. The video calls are facilitated through the integrated camera placed on the right side of the device, and the voice calls make use of an amplified mic and speaker. Additionally, the included camera can take selfies and normal snapshots, although the later case may prove to be quite awkward since users cannot really see what they are shooting at.

Nubia's own teaser video reveals that the app suite of the wearable device includes a music player, phone dialer, contact list, GPS phone finding, fitness tracker and time/weather widgets. Details on the actual hardware powering this device were not disclosed, but the company did mention that the Nubia Alpha is expected to be released in Q4 2018.