Vivo announces iQOO sub-brand, first devices to launch soon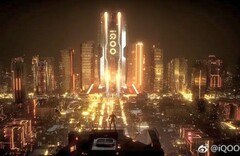 Most major Chinese smartphone brands also have successful sub-brands: Huawei has Honor, Oppo's Realme is just one year old but already doing great, Xiaomi's POCO is also quite popular, and now the time has come for Vivo to create its own sub-brand. iQOO is now an official brand and the first smartphones to carry its name are expected to arrive pretty soon.
The sub-brands of various Chinese smartphone makers turned out so successful that now creating such entities starts becoming a habit. In some markets, Honor is selling more devices than its parent, namely Huawei. Oppo's Realme and Xiaomi's POCO sub-brands were both introduced last year, but becoming popular in such a short period was not a problem for them. Now, remains to see if Vivo's iQOO will flop or fly.
Vivo has unveiled the iQOO sub-brand on the Chinese microblogging website Weibo. First, it was a post saying "Hello, this is iQOO" and an image that does not say much. The second post arrived shortly: "Do you know how to read "iQOO"? Please read my name in the comments section." and it quickly became a very popular topic of discussion.
While it seems that iQOO will be a premium brand with handsets aiming at the top sector of the market, this detail is not official yet. Since the brand was unveiled in China, it would be natural for the first iQOO devices to launch locally. We will keep an eye on this emerging Chinese sub-brand and we will report as soon as we find out anything new, so stay tuned. In the meantime, feel free to drop a comment below and let us know if you think there is room for another Chinese sub-brand or Vivo's initiative is doomed to fail.