CES 2019 | Jenax promotes the benefits of their flexible battery to the medical wearable industry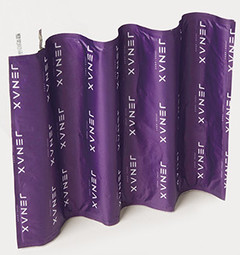 Jenax spoke today at CES 2019 alongside medical companies Philips, Johnson & Johnson, and others, about how their J. Flex flexible battery allows designers to focus on the use-case and comfort of the device, rather than figuring out where to fit a bulky battery.
Jenax, the South Korean company behind the J. Flex flexible battery, presented today at CES how their flexible battery is helping to change the way that wearable medical devices are designed and used.

The Jenax J. Flex battery first debuted at CES 2015, and the initial buzz was created around its ability to power consumer wearable technology. The idea was that the flexible battery could be built into the lining of clothes and backpacks without ending up with a bulky solid battery pack getting in the way.

However, Jenax has increasingly been discussing the benefits of their product for medical wearables, particularly the size (0.5 mm thick) and impact resistance qualities. "By ultimately eliminating design constraints, companies can focus more on the benefits and comfortability of devices than on where to fit the large bulky battery," said Jenax CEO, Lee-Hyun Shin.

Like all cutting-edge technology, there is a catch. Currently, the capacity of the J. Flex battery is the biggest drawback, with each unit having a capacity of around 30 mAh. This places it at roughly 20% of a standard button cell used in compact electronics.